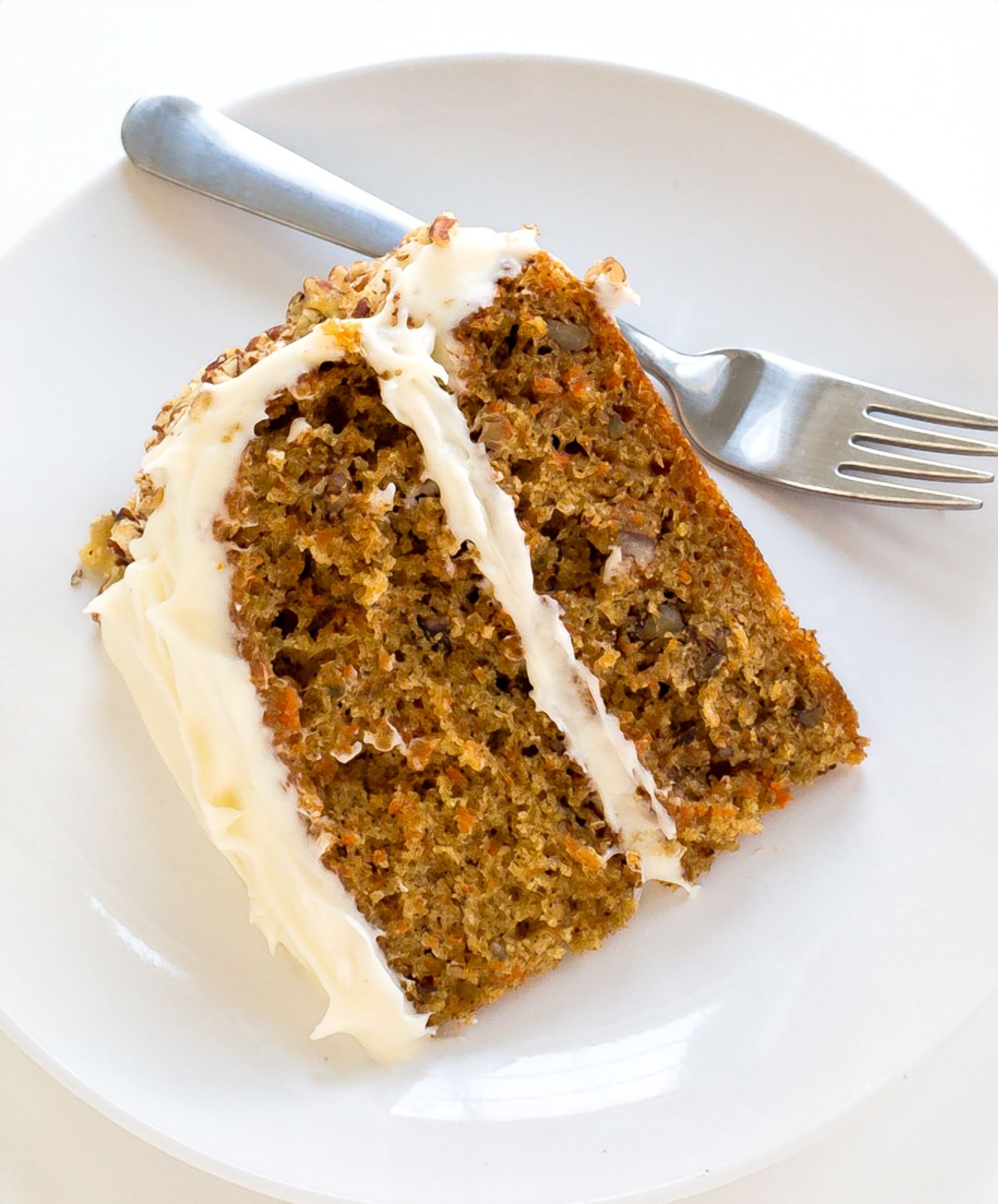 What says Easter more than Carrot Cake? This Carrot Cake is super moist, soft with just the right amount of spice. It's the perfect way to celebrate the start of Spring!
Servings 12
Ingredients:
2½ cups all purpose flour
2 teaspoons baking powder
1 teaspoon baking soda
½ teaspoon salt
2 teaspoons cinnamon
¼ teaspoon ground nutmeg
4 large eggs
1 cup canola or vegetable oil
½ cup unsweetened apple sauce
1 cup light brown sugar
1 cup granulated sugar
2½ cups grated carrots
1 cup chopped walnuts or pecans
Cream Cheese Frosting:
½ cup butter (1 stick)
8 ounces cream cheese, softened
4 cups powdered sugar
1 teaspoon vanilla extract
Directions:
Preheat oven to 350 degrees.
Grease two 9-inch cake pans with cooking spray. Line the bottom of the pans with parchment rounds and spray parchment with oil then dust with flour, tapping out any excess flour.
Add flour, baking powder, baking soda, salt, cinnamon and nutmeg to a large bowl.
In another large bowl combine eggs, oil, apple sauce and both sugars.
Add the wet ingredients into the dry ingredients and stir just until combined. Try not to over mix.
Fold in carrots and nuts by hand.
Pour the batter into the prepared pans and bake for 30-35 minutes or until a toothpick inserted comes out clean and without any crumbs.
Allow the cake to cool for 10 minutes in the pan and then run a butter knife around the edges of the cakes and flip the cake out onto a wire rack. Peel off parchment paper and flip the cakes again so it is the right side up. Allow to cool completely.
Frost cake and serve immediately or store in an airtight container in the fridge.
Cream Cheese Frosting:
Add butter and cream cheese to a stand mixer with the paddle attachment. Cream until fluffy, 2-3 minutes.
Stir in powdered sugar and vanilla and mix until combined and clump free.
Set aside until ready to frost the cake.
Recipe and photo credit to: Chef Savvy