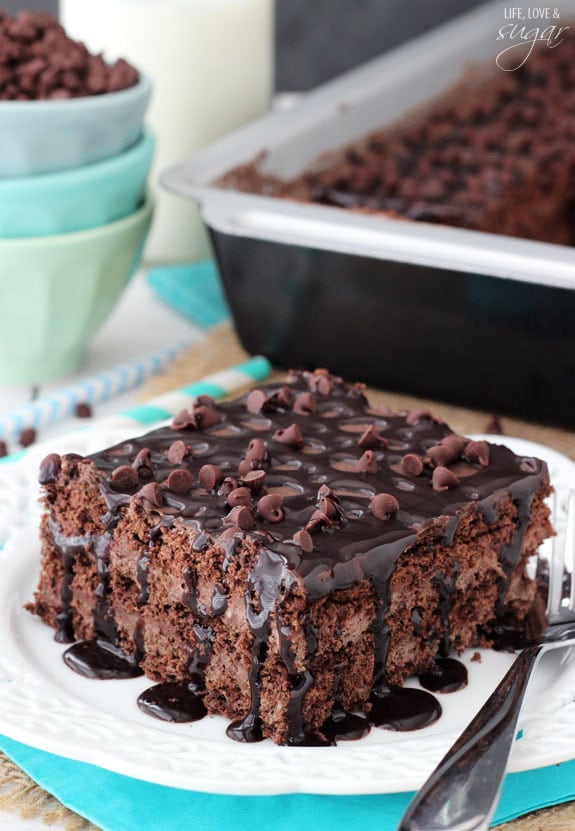 This Death by Chocolate Icebox Cake was a huge hit! With layers of chocolate ganache, chocolate mousse and chocolate graham crackers all topped with chocolate sauce, you will be in a chocolate coma after eating it.
Serving Size: 15-18 slices
Ingredients:
14.4 oz

 box of Chocolate Graham Crackers
Chocolate Mouse:

8 oz

 cream cheese, room temperature

1/2 cup

 sugar

3 tbsp

 milk

1/2 cup

 cocoa

8 oz

 cool whip (or homemade whipped cream*)
Chocolate Ganache
11 oz semi-sweet or milk chocolate chips (about 2 cups)
3/4 cup heavy whipping cream
Chocolate Whipped Cream and Toppings
3/4 cup heavy whipping cream
1 1/2 tbsp cocoa
1/4 cup powdered sugar
Chocolate sauce (I used this one)
Mini chocolate chips
Directions:
To Make the Chocolate Mousse

Combine cream cheese, sugar and milk together in the bowl of a stand mixer, or with a hand mixer. Mix until completely combined.
Add cocoa and mix until smooth.
Fold in the cool whip.

To Make the Chocolate Ganache

Place chocolate chips in a metal bowl.
Microwave the heavy cream until it starts to boil. Remove from microwave and pour over chocolate chips.
Cover bowl with saran wrap for 5-7 minutes.
Whisk chocolate and cream until smooth.

To Make the Chocolate Whipped Cream

Add the heavy whipping cream, cocoa and powdered sugar to a large mixer fitted with the whisk attachment.
Whip on high speed until stiff peaks form.

Putting it All Together

Place a single layer of graham crackers in the bottom of a 9×13 pan.
Top graham crackers with half of the mousse mixture and spread evenly.
Spread half of the chocolate ganache on top of the mousse mixture and spread evenly.
 Place another layer of graham crackers on top of the chocolate ganache
Spread remaining mousse mixture on top of graham crackers.
Pour remaining ganache on top of mousse mixture and spread evenly.
Top ganache with one more layer of graham crackers.
Top cake with chocolate whipped cream and spread into an even layer.
Finish cake off with chocolate sauce and mini chocolate chips, if desired,
*If making homemade whipped cream, I recommend 1 1/4 cups whipping cream and 1/2 cup powdered sugar.
If you make any of these recipes please share and post them to facebook and Insagram using the hashtag #grosvenormarketrecipes!