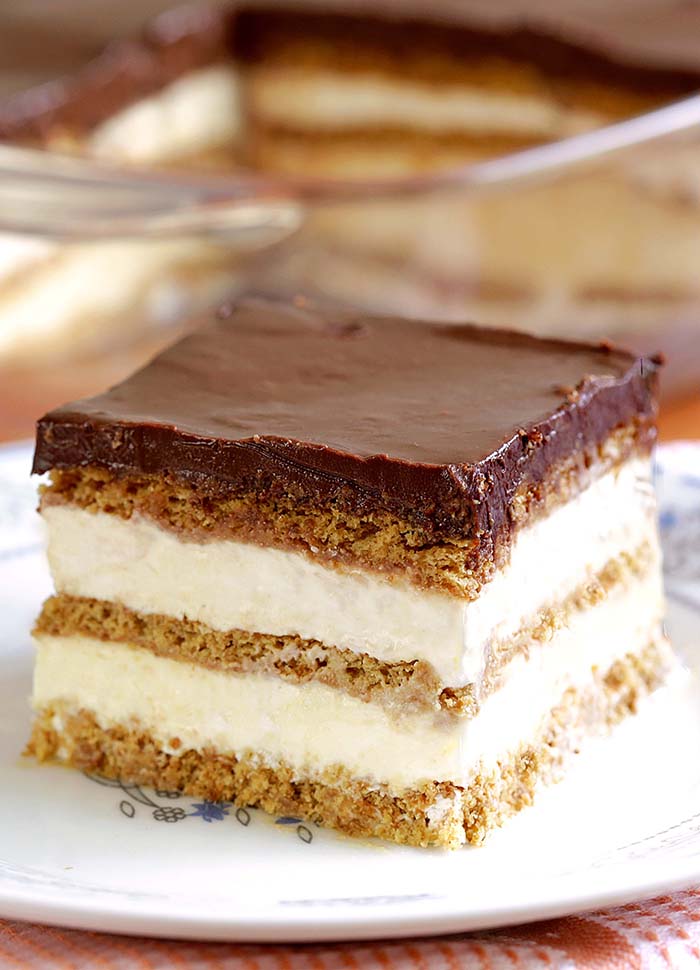 Looking for a quick and easy dessert recipe with only 15 minutes of hands-on time? Try out delicious No Bake Chocolate Eclair Icebox Cake!
Serving Size: 12-16
Ingredients:
1 box graham crackers (3 sleeves)
2½ cups heavy cream, divided
3 tablespoons sugar
1 teaspoon vanilla
2 (3.5 ounce) pkg instant vanilla pudding mix
3 cups milk
8 oz chopped dark chocolate
Directions:
Pour 1½ cup of heavy whipping cream, sugar and vanilla into the cold bowl and whisk on high speed until medium to stiff peaks form. Do not over beat.
In a bowl, combine vanilla pudding mix with cold milk. Whisk for several minutes until the pudding starts to thicken. Stir in Whipped cream.
Spread a thin layer of pudding mixture in a 9×13 pan just to coat the bottom.
Arrange approx. 1 sleeve of graham crackers on the bottom of a pan, breaking them as needed to fit around the top and bottom edges.
Evenly spread half of the pudding mixture over the crackers. Top with another layer of graham crackers, then the remaining pudding mixture. Top with a final layer of graham crackers.
Heat remaining 1 cup heavy cream in a small saucepan over medium-high until just boiling.
Pour over chocolate in a small heatproof bowl, and let stand until chocolate melts, then stir until smooth.
Spread over graham cracker layer, smoothing top with an spatula.
Refrigerate to set, at least 2 hours and up to overnight.
*To cut clean, even pieces, place the pan in the freezer for 30 minutes before serving.
Photo and Recipe credit: Cakecottage.com
If you make any of these recipes please share and post them to facebook and Insagram using the hashtag #grosvenormarketrecipes!